Government-backed programme has issued 4,556 loans to start-ups in the East of England since 2012
There is a real spirit of entrepreneurship in the East of England, according to new figures published today by the British Business Bank's Start Up Loans programme.
They reveal that since its launch in 2012, the government-backed programme has issued 4,556 loans totalling £35.87m to small businesses in the East of the country. The average loan taken out by those small business owners was £7,873.
In addition to finance, Start Up Loan applicants receive support from an experienced business advisor to help them prepare a business plan and cash flow report, and loan recipients are offered 12-months of free mentoring to guide them through the early stages of their business journey.
Among those to receive a Start Up Loan is Emily Robertson, 28, who borrowed £25,000 in 2017 through Delivery Partner Virgin StartUp to set up a distillery in Cambridgeshire producing handcrafted gin.
A former software developer at a multi-national tech company, Emily decided to give up her desk job and the daily commute to Cambridge and launch Roundwood Gin with co-founder, Rupert Waters.
She used the loan to transform an outbuilding into a fully-functioning distillery with a hand-designed copper still.
Since its launch in 2017, the company has gone from strength to strength, launching two new products only this month – the Cask Aged Sloe Gin and the London Dry Gin Miniatures – which they sell and distribute through their website.
The business now employs four members of staff to help with the day-to-day running of the operation and with workshops which teach their customers about the process behind the distilling.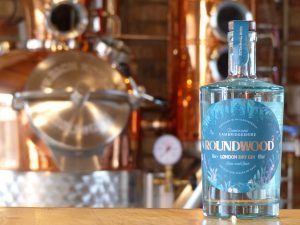 Emily Robertson, co-founder of Roundwood Gin, said: "Starting a business is the best thing I've ever done – but it hasn't always been easy. Launching the brand was a complete rollercoaster and I've learnt a lot. It took us 15 months from idea to launch and Start Up Loans has supported me every step of the way, not only through its funding but, just as importantly, through its mentoring service."
Richard Bearman, Managing Director of Start Up Loans, said: "I'm delighted that we've helped Emily and Rupert develop and grow their business. Small businesses are crucially important to our economy, and we're committed to helping them thrive. We are thrilled that Start Up Loans has played a part in the success of Roundwood Gin." 
Andy Fishburn, Managing Director at Virgin StartUp, said: "At Virgin StartUp we love ambitious founders, and Emily – and her vision to set up a gin distillery was just that. Making the decision to create their own production facility rather than use a third-party supplier was a bold move which was emblematic of the approach from the Roundwood Gin team. Their thorough market research and validation paid off and we are proud to have supported Emily and the team. We hope 2020 is a great year for Emily and the Roundwood Gin team"
The Start Up Loans programme provides fixed-interest loans of £500 to £25,000 to aspiring business owners from across the UK, many of whom might be struggling to access other forms of finance. Since 2012, it has lent over £551 million through 68,600 loans.
Breakdown of loans by region (as at end November 2019)
| UK Region | Loans Made | Amount Lent (£) | Average Loan Amount (£) |
| --- | --- | --- | --- |
| East Midlands | 3,826 | 28,397,939 | 7,422 |
| East of England | 4,556 | 35,870,153 | 7,873 |
| Isle of Man | 1 | 5,000 | 5,000 |
| London | 15,545 | 124,916,705 | 8,036 |
| North East | 3,925 | 31,031,921 | 7,906 |
| North West | 8,478 | 66,328,531 | 7,824 |
| Northern Ireland | 1,072 | 7,906,326 | 7,375 |
| Scotland | 4,212 | 31,863,164 | 7,565 |
| South East | 6,136 | 52,831,525 | 8,610 |
| South West | 5,669 | 44,774,855 | 7,898 |
| Wales | 3,128 | 28,556,305 | 9,129 |
| West Midlands | 5,738 | 44,177,298 | 7,699 |
| Yorkshire and The Humber | 5,814 | 48,968,160 | 8,422 |
| Region not obtained | 500 | 5,805,774 | 11,612 |
| Grand Total | 68,600 | 551,433,656 | 8,038 |