Start Up Loans
Start or grow your own business
Fixed interest rate of 6% per annum (per year)

Repay over a term of 1–5 years

12 months of free mentoring
Start Up Loans
Start or grow your own business
Borrow up to £25,000

Fixed interest rate of 6% per annum (per year)

Repay over a term of 1–5 years

12 months of free mentoring

Government-backed
Turn your passion into Business Success in 2022
Join us online at StartUp 2022 on the 21st January
Learn with Start Up Loans
Start Up Loans has partnered with The Open University to offer a range of free courses ideal for people who are going into business for the first time. The courses provide rich information covering subjects such as:
Entrepreneurship
Career and Leadership
Finance and Accounting
Marketing and Commercial Awareness
Project Management
Over 80,000 business ideas supported with more than £600 million worth of loans
We offer low-interest personal loans and free mentoring to help you start or grow a new business.
Borrow up to £25,000
(The average loan amount is £7,200)
Fixed interest rate of 6% per annum (per year)
Repay the loan over a term of 1–5 years
No fees for arranging the loan or paying it back early
A great alternative for people looking for a business loan to fund a start-up.
Support with writing business plans and cash flow forecasts
12 months of free mentoring once you receive a loan​
A range of useful templates and how-to guides
Exclusive discounts on business products from O2, Experian, Intuit and 30+ more
To be eligible to apply for a Start Up Loan, you must meet the following criteria:
To be eligible to apply for a Start Up Loan, you must meet the following criteria:
You're 18 years of age or older
You're a current UK resident
You're starting a new business or have been trading for up to 24 months
You're unable to secure finance from other sources (self-declaration is ok)
Your business is based in the UK
You have the right to work in the UK
Do you meet the criteria?
Apply today and get support with creating your business plan and cash flow forecast.
If you're in a business partnership, buying an existing business or starting a franchise, you can apply for a Start Up Loan if you meet the criteria above. Scroll down this page to find out more about the process for these applicants.
Start Up Loans passes £600m outside of London funding milestone
The British Business Bank's Start Up Loans programme has passed a major milestone of £600 million worth of loans delivered outside of London, providing 68,559 loans to entrepreneurs outside of the capital since its launch in 2012.
The essential guide to starting a business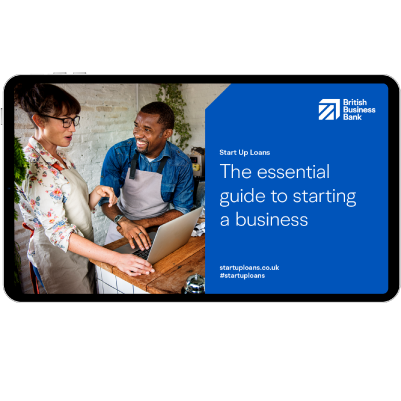 Inside, you'll find tips and advice on:
conducting market research on customers and competitors
choosing a company structure
figuring out your responsibilities around paying insurance and tax
developing your business strategy and sales forecast
writing your business plan
analysing your strengths and weaknesses
Download this free guide
Enter your details to start your download.
By submitting your details via this form, you agree to our privacy policy.
Thousands of UK businesses have been backed with the help of a Start Up Loan. Read below to find out about some of our success stories and how the support we offer, combined with small business funding, helped them turn their dreams into reality.
Whether you're thinking of applying for a Start Up Loan in the future, or have already received one, sign-up to receive our monthly e-newsletter, filled with expert advice, latest success stories and special offers for your business.